Woodwatch Branches out to the States & Canada
Allow us to introduce ourselves. We are WoodWatch. An established Northern-European watch brand, now branching out to the States and Canada. We combine innovative Dutch design with time-honored craftsmanship. From day one, our mission has been to create unique, sustainable watches that are proudly worn by our customers.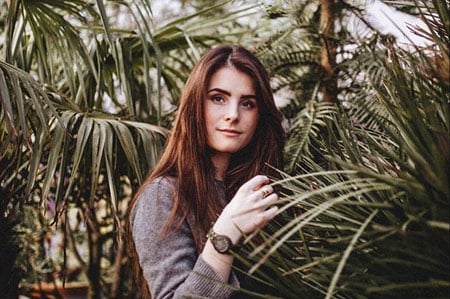 1. Sustainable
Our planet and the environment shape the heart of our mission. Our watches are made from all-natural materials, sourced exclusively from environmentally sustainable, fair-trade timber. A wooden watch is exceptionally durable and will last for years. That's why our watches are the perfect ''green'' gift, for you and Mother Earth.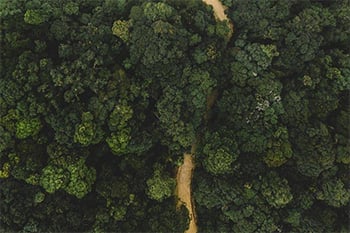 2. Giving Back
Together with Trees for the Future we plant a tree for each watch sold. This not only compensates our carbon footprint, but also supports local communities in Senegal, Cameroon, Kenya, Tanzania and Uganda. For each package we deliver internationally, we plant a tree in Bolivia's Smart Forest. In total we have planted more than 10.000 trees.
"The best time to plant a tree was 20 years ago. The second best time is now".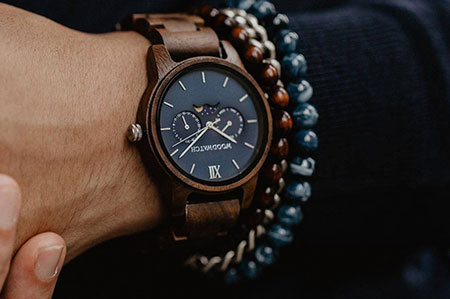 3. Stylish
Each WoodWatch is lovingly handcrafted using only the finest all-natural materials and features a unique grain pattern, giving it a distinct character. A wooden watch is a style icon that matches every outfit or personality. Our timeless designs are elegant and diverse; minimalistic or detailed, refined or rough. Made for rugged adventurers and style-conscious trendsetters.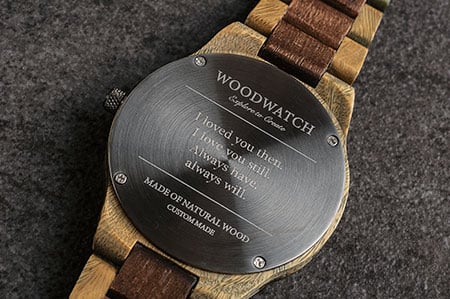 4. Personal
Customize your watch by having a personal message engraved on the back plate, using our easy engraving tool. The day you met, your wedding anniversary, a cherished location or perhaps a meaningful quote. You can even add emojis for a playful touch. The lid of our pinewood gift box can also be engraved with a personal message.
Curious? Jump in and discover our collections or directly visit one of our best-selling products:
Discover our watches from just $99.-