How to personalize your wooden watch
Creativity and expression of personal style are two things we value highly at WoodWatch. A personalized watch with an engraving is a great way for you to put a unique touch on something you wear every day or to gift to someone special in your life. The process of creating a personalized watch for him or her is very easy.
First, pick your favourite WoodWatch model. We have both men's and women's watches to choose from. Second, choose your perfect combination of materials, straps, and colours. Finally, come up with a meaningful sentence, word, or quote to engrave on the backplate of your WoodWatch.
Why should you buy a personalized wooden watch?

Personalized engraved men's watches can make thoughtful birthday, anniversary, or wedding gifts. A personalized wooden watch for her is guaranteed to make her day when gifting it on Valentine's Day, for an anniversary or during the holiday season. And, of course, there is nothing wrong with purchasing a personalized watch for yourself!
DISCOVER WATCHES FOR MEN DISCOVER WATCHES FOR WOMEN
Choose the right type of wood
The first step to personalizing your watch is choosing your favourite WoodWatch. Each WoodWatch is crafted from natural wood sustainably sourced from all over the world. Discover the range of wood types used and their unique characteristics. Every wood type features its own colours, patterns, grain, hardness, and beauty. From the options available for each WoodWatch collection, choose the model crafted from your favourite wood type.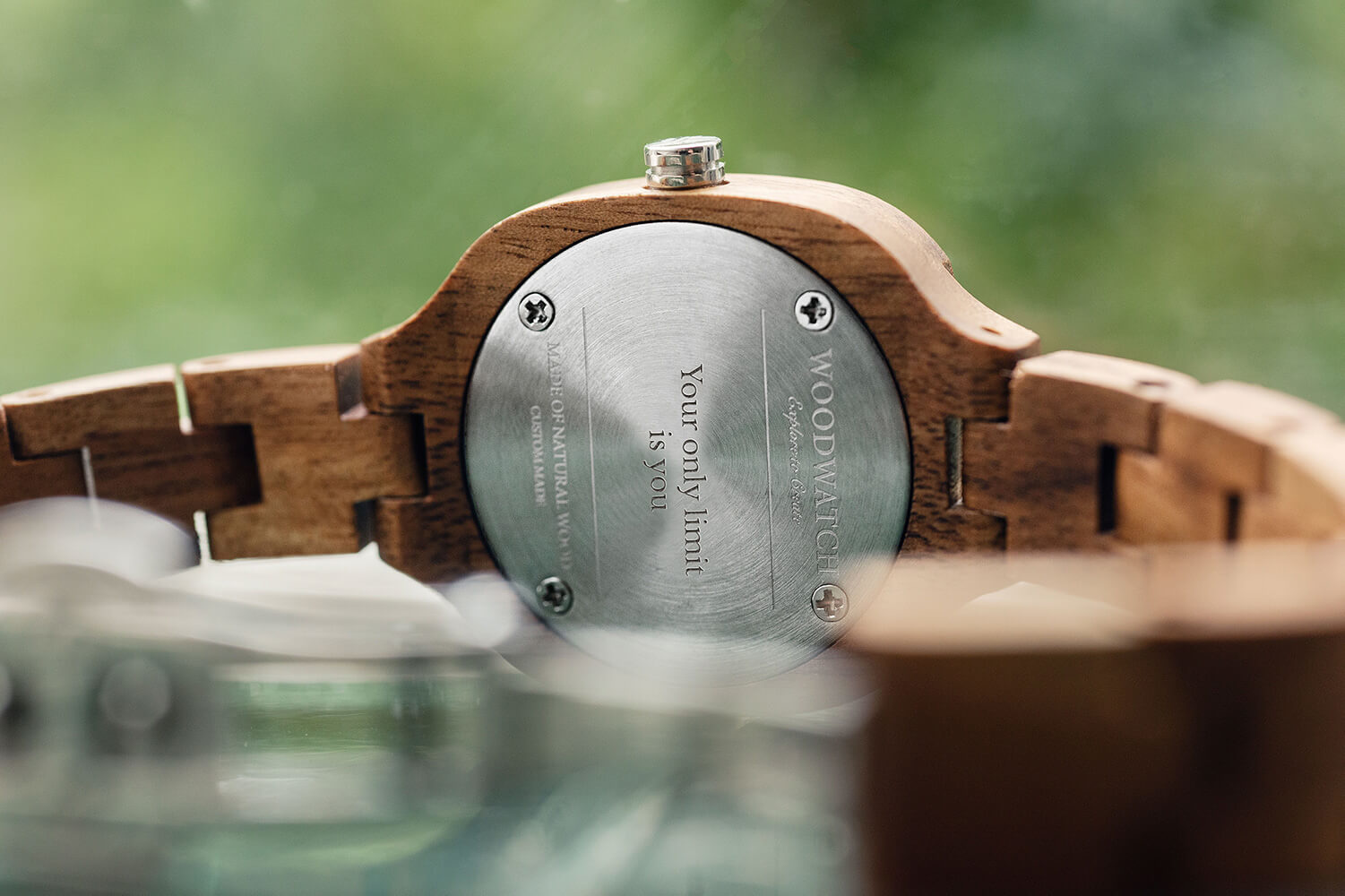 Pick the best strap for your personalized wooden watch
We love interchangeable watch straps! Why? Because every strap you choose is a decision to be who you are at that particular moment. Seamlessly style your strap to match your unique personality or the one of your loved one. Dressing up or dressing down, the small details can complete a look to perfectly suit any dress code. Simply switch it up using the provided tools.
Check out the different styles for straps for your chosen WoodWatch and personalize your watch for different occasions and moods.

Personalize the watch with an engraved quote or message
This is where you can let your imagination shine! Think of your favourite quote, an insider joke or a special date, and type it into the engraving tool to see what your personalized watch for her or him will look like. You can engrave up to 60 characters on the backplate of each watch. Happy? Place your order and our high precision engraving tool will do the rest. Within a few days, your personalized watch will be delivered to your doorstep!
Get a personalized wooden gift box
To gift or to keep, each WoodWatch can be safely stored in a reusable keepsake pinewood gift box. The Pinewood Box can also be engraved with a message up to 450 characters for an extra personal and unique touch. This will make unboxing or watching your loved one unpack their gift extra special!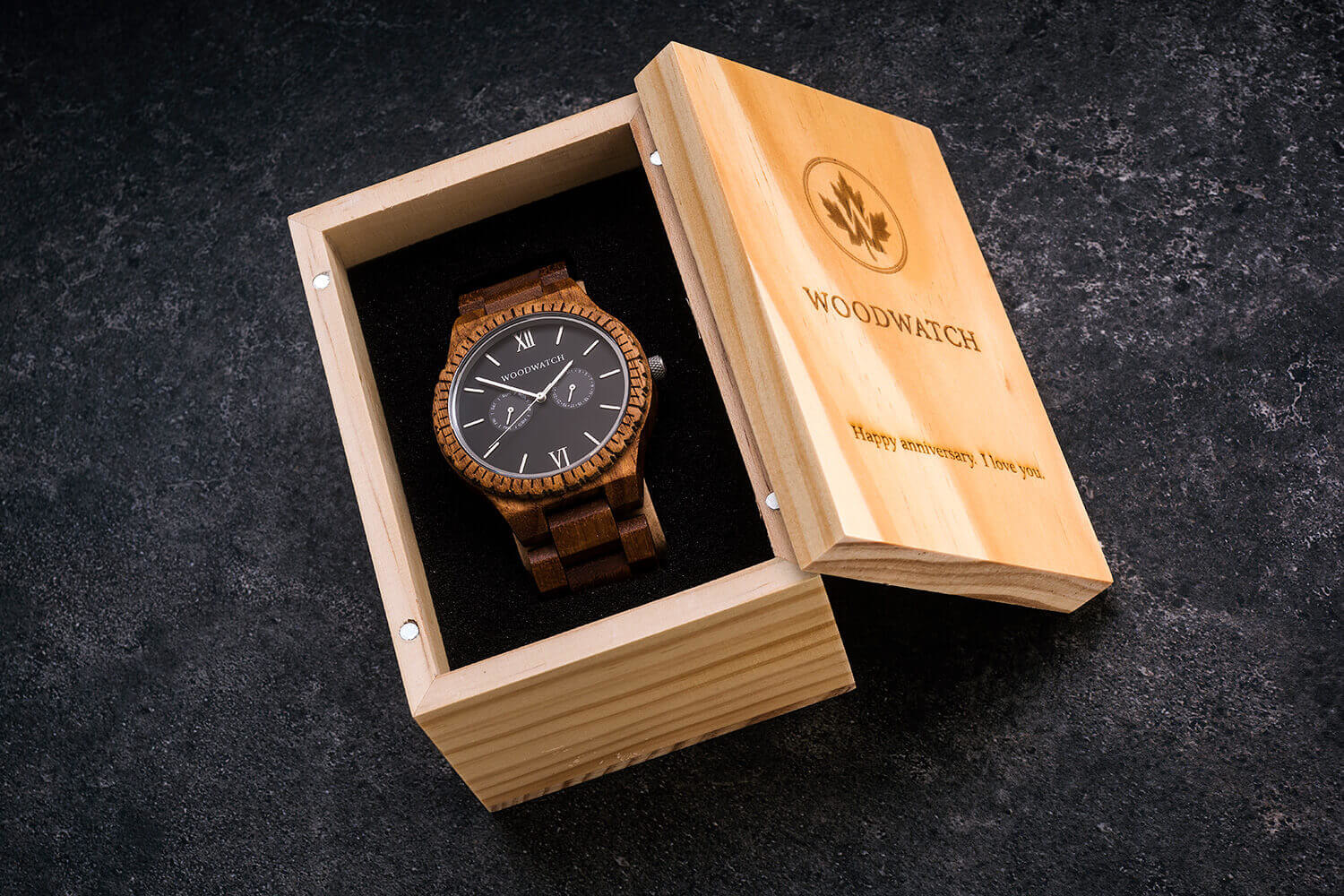 Can I return a personalized wooden watch?
A personalized engraved watch has a separate return policy than the normal return process. Returning an engraved watch is possible within 30 days from the day of receipt. The cost of the engraving cannot be refunded. In case you wish to exchange your item and add an engraving to the new WoodWatch, the costs of the engraving need to be paid again.
How long does it take to ship a completely personalized watch?
When you order a personalized watch with a custom engraving, we need some extra time to prepare it for shipment. This usually takes two business days. After that, your personalized wooden watch will be shipped as per the Shipping & Returns page. Here you'll find a detailed overview of the shipping times per country. If the delivery time of a specific product varies, then we will show that on the specific product page.
What's the best wooden watch for him and her?
All our watches can be engraved on the backplate, whether you are looking for a personalized engraved men's watch or a personalized watch for her. So whichever WoodWatch you choose, you can't go wrong! Some of our most popular watches for men are the CLASSIC Mariner and the GRAND Lunar Eclipse, both also available in several other wood types and colours. Some best selling watches for women are the AURORA Nordic Sun and NORDIC Copenhagen. A few models are also available with various straps.